Logitech MK320 920-002836 Wireless Mouse and Keyboard Combo
ATTENTION: This is the NEWER VERSION of the MK320 with the Unifying Receiver
If you are looking for the older version we have them as well. Please check out our other auction.
This auction is for a manufacturer refurbished Logitech Wireless Desktop MK320 in excellent "like-new" condition!
Batteries are INCLUDED!! Instruction Manual Included!
With the Logitech Wireless Desktop MK320 you get a full-featured keyboard and an easy-to-tote mouse, for comfortable control at home or on the go. Plus, a reliable wireless connection and long-lasting battery life. Because of it's relitively compact size, the MK320 makes a great wireless keyboard for both at home use, and also use on the go with your laptop or netbook!


Long-range 2.4 GHz wireless
You¡¯ll get a powerful, reliable connection with up to a 10-meter range, even in the most crowded wireless environments, plus 128-bit AES encryption for the keyboard.

Sculpted mouse with snap-on receiver
Say goodbye to that tricky touchpad. Use your mouse at home, or when you want to move around with your notebook. Just snap the receiver on the mouse—and go.

Long-lasting battery life
Go for months without changing batteries—up to 15 for the keyboard* and up to five * for the mouse. A battery indicator ensures that you won¡¯t be caught off guard.

Instant-access hot keys
Control videos or music and launch applications like your calculator, e-mail program, and media player.

Full-size keyboard
The full-size keyboard with low-profile keys and integrated number pad helps you type and work more comfortably without feeling cramped.

Plug-and-play setup
Setup is easy. Just plug in the mini-receiver and start using your keyboard and mouse right away. It¡¯s that simple. The batteries are pre-installed. And there¡¯s no software installation required.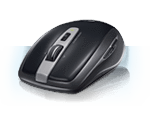 Works—even on glass
Work where other mice fail, even on glass, with Logitech Darkfield Laser Tracking¢â.
*Keyboard battery life calculation based on an estimated two million keystrokes/year in an office environment. User experience may vary. Mouse battery life may vary based on user and computing conditions.